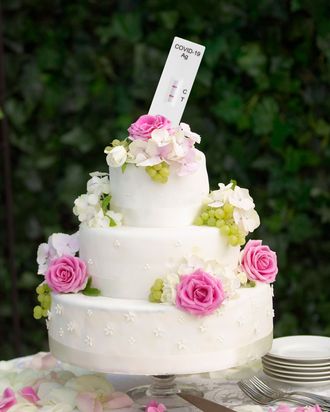 Photo-Illustration: by The Cut; Photos: Getty Images/Getty Images
If you need further evidence that we're living in the Wild West of wedding seasons, please consider reports of this British bride, who by her own account recently presented her guests with a truly challenging conundrum: She has COVID-19, but she's still having her wedding, if you want to come!
These days, in the midst of yet another COVID wave (which appears to be the result of the most transmissible variant yet), we are going on startlingly little guidance from higher authorities on how seriously we should be treating the virus. According to Newsweek, one bride in the U.K. who tested positive less than a week before her wedding is contemplating how to move forward with the event so as not to lose the $16,000 she spent planning it. Since official U.K. guidelines don't legally require her to quarantine (it's still highly recommended), she claims that her insurance won't reimburse her for canceling at the last minute. Faced with the prospect of calling off a wedding that she can't afford to redo, she brought her dilemma to an online forum called Mumsnet. There, a particularly wild strain of pandemic-era wedding logic emerged. Seeing as she said she isn't experiencing symptoms, plenty of users seem to think it's fine to … just not tell her guests she has COVID?
These commenters insisted that, given the current ubiquity of COVID, the bride's guests would probably never even find out she had it, even if they test positive after the wedding. "Have your wedding. Tell no one," one commenter advised. "Going to a wedding at the moment will likely expose them to COVID" anyway, one user pointed out. Another cautioned her to give a heads-up to at-risk guests but to keep it from everyone else so as not to cause "mass hysteria/swathes of dropouts." "It's highly likely that 5–10 percent of your guests will have it without even realizing," wrote someone else. "Have a fab day!!"
According to Newsweek, the bride posted an update indicating she plans to go ahead with the wedding but, thankfully, has let her guests know about her predicament so they can decide for themselves whether or not they want to risk it. "We will speak to the venue to go outside for as much as possible and see if there is anything else they can put in place we haven't thought of," she wrote. Wishing all who choose to attend a speedy recovery.