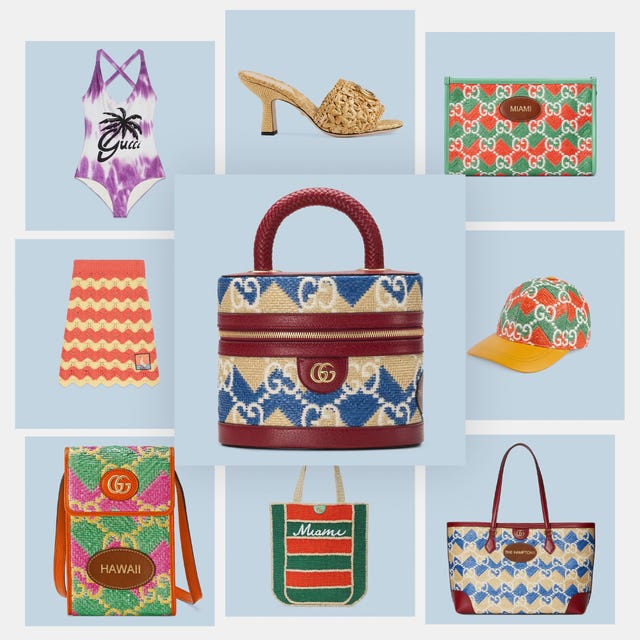 Courtesy of Gucci
Finally getting around to taking that vacation you've so desperately needed? Whether you're traveling near or far, Gucci is here to help you update your summer wardrobe with a new capsule collection that celebrates, as the brand puts it, "the seasonal ritual of setting off to seaside locales." Or as I would put it, the exact moment you schedule that pithy OOO message you've been workshopping for the last two weeks and hit the beach.
Featuring an assortment of bags, hats, and shoes that screams, "Pass me a margarita," the selection is dedicated to specific locations (grab your Miami cross-body if you're off to South Beach; the Hamptons tote if a visit to Sag Harbor is on your list) complete with unique color combinations. The collection also includes fresh swimwear options, cabana shirts, and skirts that double as cover-ups. Shop our favorites ahead.
Advertisement – Continue Reading Below
Real Housewives of Miami superfan? University of Miami graduate? South Beach expert? This bag works for everyone!
2
'Miami' GG Chevron Striped Pouch
3
'The Hamptons' Straw Effect Tote Bag
Be the chicest person at the farmers' market.
4
GG Top Handle Beauty Case
The better to carry your Gucci beauty with.
5
'Hawaii' GG Top Handle Mini Bag
You'll never lose your phone now.
6
GG Straw Effect Baseball Hat
A key piece in your arsenal for dealing with UV rays.
7
'Palm Desert' Straw Effect Tote Bag
Use this tote to bring everything you need to the pool and back.
8
'Palm Desert' GG Top Handle Mini Bag
A chic replacement for that trail fanny pack.
Tie-dye will always be key to creating immaculate summer vibes.
10
Chevron Knit Cotton Skirt
A skirt that doubles as a cover-up: packing hack 101.
11
Women's Double G Slide Sandal
Perfect footwear for the beach, outdoor weddings, baby showers, and more.
This content is created and maintained by a third party, and imported onto this page to help users provide their email addresses. You may be able to find more information about this and similar content at piano.io
Advertisement – Continue Reading Below